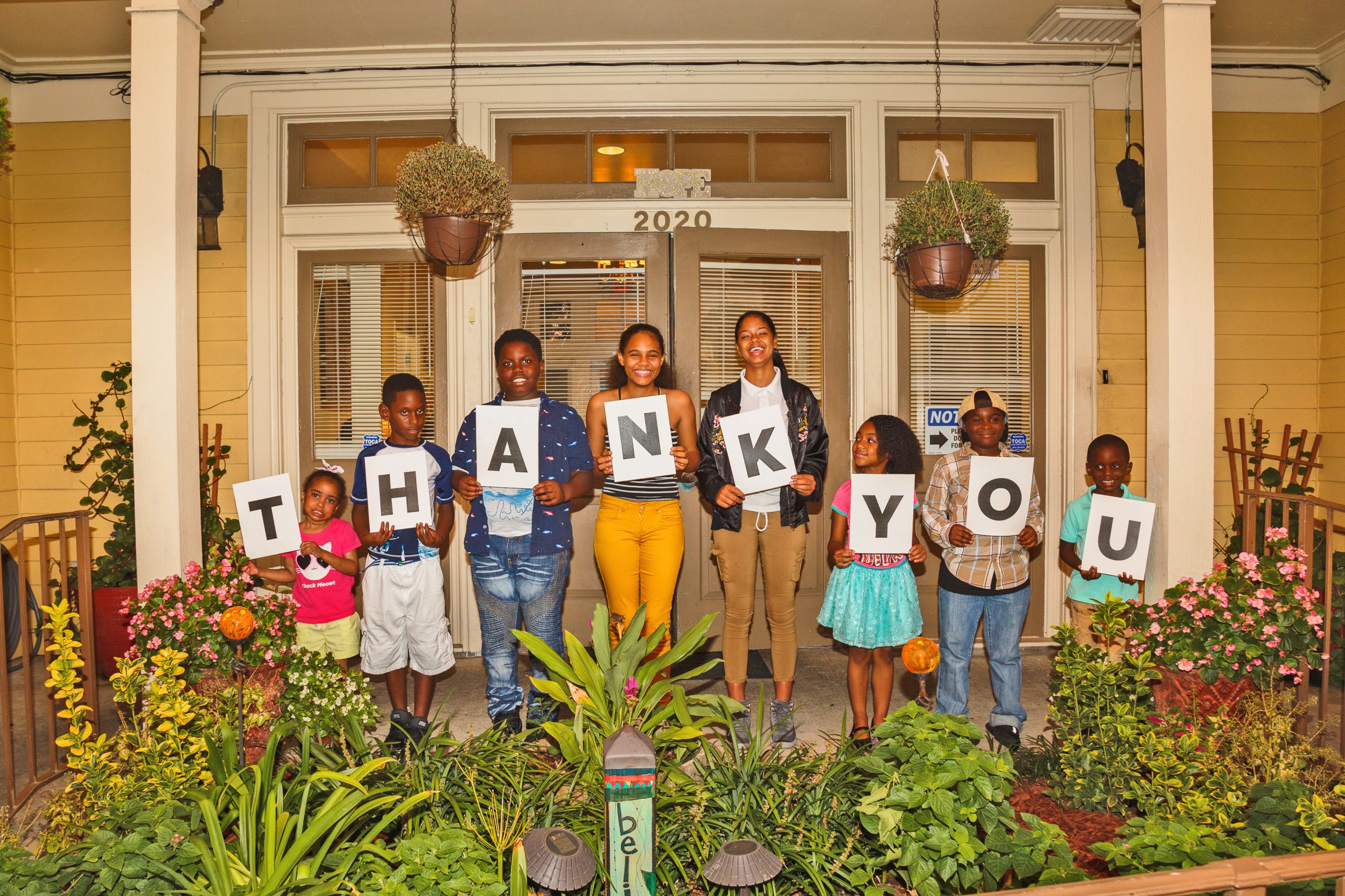 Our Donors, Our Friends
We cannot help families without you! Thank you to the many foundations, organizations and individuals supporters who have, with their gifts, walked alongside our families on the journey towards stability. Their investment in another family's future is a sound and compassionate investment and we deeply appreciate their vote of confidence in our mission.
Despite our very best efforts, there may be an error or two in our listing. If you would like to have your name updated, please call our Development Director, Melissa Tyler at 504-522-9340 ext. 106 or email her directly.
$5,000+ Supporters
Barrasso, Usdin, Kupperman, Freeman & Sarver
Blue Cross and Blue Shield of Louisiana
The Joe W. & Dorothy Dorsett Brown Foundation
Capital One Bank
City of New Orleans
Entergy
Ella West Freeman Foundation
Wendell & Anne Gauthier Family Foundation
Greater New Orleans Foundation GiveNOLA Day
Goldring Family Foundation
GPOA Foundation
Gulf Coast Bank and Trust Company
Leslie and Scott Jacobs
Jewish Endowment Foundation of Louisiana
Eugenie and Joseph Jones Family Foundation
Keller Family Foundation
The Kirkley Family Charitable Fund
La Societe Des Dames Hospitalieres Donor Advised Fund
Mr. and Mrs. James M. Lapeyre Jr.
Liberty Bank
Ashley Longshore
LongueVue Management Company LLC
Gustaf W. McIlhenny Family Foundation
OnPath Federal Credit Union
Mary E. Peters and Robert W. Polchow Foundation
Redmellon, LLC
Debbie & Rick Rees
Mr. and Mrs. Stephen Rosenthal
Nita-Joan Sams
P.K. Scheerle RN and Bruce Bolyard
David and Lisa Schlakman**
Schwab Charitable Fund
Dan** and Jackie Silverman**
Vicky and Peter Sperling
Sperling Family Charitable Foundation
St. Charles Avenue Presbyterian Church
Taste of the South
The Blue Cross and Blue Shield of Louisiana Foundation
Whitman Family Foundation
Wisner Foundation – City of New Orleans
Woldenberg Foundation
Robert E. Zetzmann Family Foundation
$4,999 to $1,000 Supporters
American Counseling Association
Peter Anton
AP Tureaud Inn of Court
John R. Argote
Adrienne Awad
Tracy and David Berglass
Book Lovers Con
Katherine Cecil
Anne and Winslow Chadwick Jr.
Easy Shutter Services, LLC
Elektra Cosmetics
Father Harold Vieages Charitable Fund
Fidelity Charitable Gift Fund
Derrick Freeman PhD
Betsie Gambel
Kimberly George
Gifted Healthcare / P.K. Scheerle RN
Brick Green
Daniel R.Heist
Henderson Hutter Group / Raymond James
Herman, Herman & Katz, LLC
Pamela Huizenga Alexander
Mrs. R. Easterday
The Honorable Paulette Irons and Mr. Alvin Irons
Jewish Endowment Foundation of Louisiana
Key Impact Sales & Systems, Inc
Colleen and Allen Kirkley
Kyla Madden Photography
Lake Vista Women's Club
Landay Gabriel and Charles Lee
Rabbi Robert Loewy and Mrs. Lynn Loewy
Franchesca Lorio
LPL Financial
Sheldon Lykes
Suzanne T. Mestayer
Morris Mintz
OnPath Federal Credit Union
Holley D. Pavy
Barbara Jo Pease and Timothy English
Jill and Lee Plotkin
Raymond James Charitable Endowment Fund
Deandre R. Reagins PE
Reily Foods Company
Kimberly Rivers Roberts
Mr. and Mrs. H. Britton Sanderford Jr.
The Silverstein Family
Taste of the South
Jean and Saul A. Mintz Foundation
The Usdin Weil Foundation
The Woolard Family Foundation
Mr. and Mrs. Steven W. Usdin
Sarah and Thomas Usdin
Valley of the Sun United Way
Dr. and Mrs. Kenneth E. Vogel
Wal-Mart Foundation
Wal-Mart Supercenter #911
George H. Wilson Jr.
$999 to $1 Supporters
The Honorable Neil C. Abramson and Mrs. Abramson
Diane K. Africk MD
Amanda L. Aiken
Jan L. Allen
Mariana Altman
Michelle Anderson
Amy Andresen
Anonymous
Deiondra L. Anthony
Nancy Aronson and Virginia Besthoff
Desiree Asher
Carol and Gene Atkins
Victor Atkins III
Karen Baer
Baker Family Foundations
Bakery Bar & Debbie Does Doberge
Dolores N. Banks
Lynn C. Bardell
Patricia Barich
Renee and Ian Barras
Stephen Barrow
Erica Broussard Bart MD and Kevin Bart
Katherine Bassick
Maricela Bassler
Anna Bastian
Lara Baumgarten
Ashley and Bradley Becnel
Melissa S. Beek
Amber Beezley
Greg Bensel
Rachel Bergman
Bertha Lichtentag Mayer Foundation Number 2
Best Buy Employee Giving Program
Corinna and Michael Biondolillo
Rachel Birnbaum
Lois R. Blakes
Elizabeth Blumenfeld
Vivian Boe
Starella Bolton
Jennifer Bond
Deanna Boyd
Celeste Boyd-Spear
Abby Bradford
Dawn Bradley-Fletcher
Deidre Braneon
Dewan Braud
Jody Braunig LMSW
Sadie N. Briggs
Elizabeth and Steve Brinson
Dr. and Mrs. Daniel R. Bronfin
Edward Brown
Jen Brown
Judith A. Brown
The Honorable Christopher J. Bruno Sr. and Mrs. Bruno
Jaime and Kenneth Buck
Bumble
Glenny Lee Buquet
Corey M. Burns
Floranne M. Burns
Cortney Busch
Kelly J. Busch
Robert Byrd
Marcus Campbell
Janet Canzoneri
Christopher Caplinger
Elizabeth and Michael Carrizales
Amy Casbarian
Sharon Cassiere
Tiffany Cazabon
Charitable Adult Rides and Services, Inc.
Cheryl Clisby Events
Jacqueline Chezar
Tim Christiansen
Joseph Cipollone
Claret Wine & Cocktail Bar
Elizabeth B. Frey
Emily Clark Ph.D.
Cheryl C. Clisby and Family
Jason M. Cohen
Drs. Joy Cohen & Michael C. Grieb
Amy Boyle Collins
Committee to Elect Angelique Reed
Tiffany Cossich
Cresent City Connections
Melanie Craig
Peg E. Culligan
Carole Curtis
CyberGrants LLC
Joel M. Daste Sr.
Susan and David Daube
Alandrus David
Angela S. Davis
Margaret and Brent Smith
W. Keith deJong D.D.S
Pamela DeLaureal
Joshua Diaz
Susan Dill
Mr. and Mrs. Carling Dinkler IV
Dirty Coast
Tandi Dixon
Money Mart Financial Services
Cindy Donnes
Erin Donovan
C. Steven Douglas
Jean and Doug Drufner
DSA Perfusion LLC
Dr. Terrence D'Souza and The Honorable Bernadette D'Souza
Susan DuBow
Sandra Rhodes Duncan
Aisha Duniver
Ann and Virgli Duplessis
Gilda Duplessis
Bonnie Dye and Matthew W. Bernstein
Amanda Earl
Jane and Gregory Eiden
Matt Ellis
Michael Erminger
David A. Estes Jr. M.D.
Annette H. Evans
Lillian E. Eyrich
Mark Fagan
Kristy Falterman
Jonathan Fast
Kelley Faucheux
Michael Fein
Ferber Family of Houma Foundation
Pinkey Ferdinand
Joshua P. Fertitta
Whitney and Mark Fischer
Mr. and Mrs. Paul Fisher
Michael Fitts
Julia Fleckman PhD
Dale R. Fleishmann
Jennifer E. Flinn
Sean Flinn
Flower Holdings LLC
Mr. and Mrs. Paul H. Flower
Gwendolyn and Danny K. Ford
Blair Foster
Benjamin L. Fox
Allison Freeman
Allison and George Freeman III
Lizy Freudmann
Rebecca Friedman
Melissa Friloux
Frontstream
Alice Funsch
Prentice Fuselier
McKinley Gallagher
Allison Gallaspy and Michael Domangue
Mamie and Kirk Gasperecz
Vadim Gelman
Kendall L. Genre M.D.
Edward George
Rabbi David Gerber and Mrs. Gerber
Deena Gerber
image 360 – New Orleans
Lauren Godshall
Melissa Goldin Evans
Irving D. Goldstein
Alexis M. Gomez
Robert Goodman
Keitherra Graham
Judge Piper D. Griffin
Freddie L. Groomes-McClendon PhD
Christie Guillory
Paige Guillory
Gulf Coast Office Products
Gulf Point Advisors
Celeste Gutierrez
Kathryn Gutzwiller
Jessica Hack
Charles A. Hagebusch
Samuel Hager
Jonique and Michael J. Hall
Annie Hall-Lea
Lucia P. Hammer
Mrs. Maurice Handelman
Renee Hanson
Kyla Harris
Tracy Harris
Alison Hartman Ph.D
John L. Haspel and Amy Gainsburgh-Haspel
Chandra M. Hawkins
Hon. Ellen M. Hazeur
Ashley L. Hebert
Mr. and Mrs. Fred Herman
Eve and John E. Herzfeld III
Susan and William Hess
Susan and Bill Hess
Lauren Hickman
Camilla F. Hill
Samantha F. Hill CPA
Natalee Hinz
Elorice Hodge MD
Susan and Mitchell Hoffman
Aritha Holiday
Lindsey Holland
Kimberly Hollard
Robin Holley Duke
Virginia and Nathan P. Horner Jr.
Mr. and Mrs. Scott Howard
Humana Health Benefit Plan of Louisiana
Nikki and Jason Greenaway
Traci Hunter
Dr. Georgette L. Ioup
Mrs. Sarah Ioup
Israeloff, Trattner & Co. P.C.
Jenee Jacobi
Elizabeth and Benjamin Janke
Lakeisha N. Jefferson
Jentle Touch In Home Care LLC
Jewish Federation of Greater New Orleans
Wilson A. Johns
Alisha Johnson Perry
Deborah L. Johnson
Janet L. Johnson
Olga Jones
Susan Jones
Judge Karen Herman Campaign Fund
The Hon. Kern A. Reese
Julie-Ann Keating
John Keegan
Susan and Richard Kelly
Riley Kennedy
Christopher M. Kenny
Tracy Kilpatrick
Andrea Kingsbury
Scott Kisner
Lisa Kittredge
Marilyn and Joseph Kline
Fern Kruger
Frederick A. Kullman
Ruth and Lawrence S. Kullman
Mara and Steve Kupperman
L & R Security
Patricia Lacoste
Rose A. LaLanne
Ross Lambert
Janet and Charles Landry Jr.
Cynthia Landry
Leslie Langhetee
Beth Lavin
Kevin R. Law
Megan Leavy
Jolie LeBlanc MD
Raquel Leder and Benjamin Esty
Alyssa Lederer PhD MPH
Nafeesah Lee
Joseph C. Lefevre PhD
Shana Levenson
Danielle and Vanessa Levine
Robin Levy and Bobby Garon
JunHong Li
Jill S. Lindberg MD
Livingston International
Mary Seay Loeb
Carol and Joseph Loewy
Hollie Lofton
Aimee' Lohmeyer
Loretta's Authentic Pralines, Inc.
Louise S. McGehee School
Deborah Love
Shauna Lovorn-Marriage
Robert and Mary Lupo
Dr. Mary Lupo and Mr. Robert E. Smith Lupo
Bailey Maloney-Rosenberg
Elaine Maney
Diana and Chip Mann
Sr. Julie Marsh
Nolan Marshall Jr.
Joshua A. Martin
Jennifer Martindale
Tessa McAuliff
Jamie McDonnell
Brionne McGill
Sarah McLeod
Katie McMullin
Kerrie A. McNeal
Lesya Melnychenko
Gladys Merrick MSW
Merrill Lynch
Bryant M. Messina Jr.
Law Office of Michael J. Hall
Courtney Miller
Lindy Milner CPA
Cynthia and David C. Mirsky
Heather Mitch
Aimee Moll
Monomin
Christa Montgomery
Donna Brooks Moore
Kim E. Moore
Leann and Ted Moses
Mount Carmel Academy
Carlos and Allison Muniz
Grace Murphy
Liz Joy Murray
Amy Muzyka
Greg Nappo
Lauren Narcisse
Allyson W. Neal
Chelsea Nelson
Chelsea and Eric Nelson
Network For Good
New Orleans Alumnae Chapter Delta Sigma Theta Sorority Inc.
New Orleans Jazz Orchestra
New Orleans Magazine / Renaissance Publishing
New Zion Baptist Church Women's Department
Lelia Gowland and T. Cole Newton
Erica Norwood
Zia Oatley
Kelley O'Brien
Richard H. Ochs
Tara Oden MD
Alicia P. Oliver
Kathleen Seither and Randy Opotowsky
Orleans Tower
Wanda Oshello
Constance L. Osum
Melissa Overton-Johnson
Jennifer L. Paquette
Patrick F. Taylor Foundation
Laura Patterson and Raleigh Hoke
Debbie and Mark Perez
Donna Perkins
Melissa Peskin
Mary Ellen Phelan
Kamri Phillip
Kheri Phillip
Piper Griffin Campaign Fund
Mary Beth Plauche
Pleasant Hill Baptist Church
Eugene Podesta
Mallory Podesta
Martha Podesta
Samuel Podesta
Sarah Podesta
Shelly Power
Sue and E. Fred Preis Jr.
Tara and Paul G. Preston
PricewaterhouseCoopers LLP (PwC)
Heidi and Daniel L. Raines MD
Erin Ramsey
L'Oreal Ranson
Julie Ray RN
Kendra and Christopher Reade
Hon. Angelique Aristell Reed*
Megan Reed
Deborah Reid
Estelle Reiner
Michelle Reinhardt
Renaissance Foundation Inc.
Reilly Rendeiro
Eric Reynolds
Michael Reynolds
Rho Chi Chapter Chi Eta Phi Sorority
Sharde Rice
River Church
Janell Robins
Mrs. Octavia Robinson
Richard Rodriguez
Charles Rogers
Ava Rosenberg
Anna and P.J. Rosenberg
Rachel Roubion
Jessica Rovins
Rudy W. Gorrell, Attorney at Law
Cathie Ruggiero
Gail Russell
Jackqueline Russell
Donna and Stephen Russo
John Ryan
Kecia Ryan
Saint Peter Catholic School
Salesforce.com
Loel and Larry Samuel
Todd M. Sanderson MD
Lori Schechter
Liz Scheer
Pamela Scheer
Jon and Debbie Schlackman
Joseph M. Scholl
Stacey S. Schott
Denise U. Scofield
Danielle Scott
Kathryn and Jeffrey Scurlock
Nicola Scutt
Michele and Douglas Seal
Karen Carvin Shachat
Mark Shapiro
Robert I. Shepard
Karen and Leopold Sher
Jackie Shreves
Natalie Silverstein
Nicole Silvio
Yolanda Simmons
Jan Singer
Jane and I. William Sizeler
Cheryl Reed Slack
Antonette Smith
Keisha Smith
Kim Sobien
Theresa Sokol
Nancy and David Solomon
Margaret and Bruce Soltis
Andrea Spreter
James St. Juniors Sr.
JoAnne Stabile
Carol and Pierce Starr
Start Today Fitness, LLC
Alice Stephens
Lourdes and James O. Stoddard Jr.
Strategic Design Solutions LLC
String A Bead
Johnathan C. Stroud
Chelsea Sun
Rachel and Aaron Taravella
Target Corporation
Mara Tarnopol
Chenier Taylor
Dorothy Taylor
Phyllis M. Taylor
Jason Tetlow
The Adair Street Foundation
The Casting Office, Inc.
Ksenia Theard
Joyce and Dave Thomas
Warner Thomas
Willie Thomas Jr.
Daryl Thompson
Thursday Night Tennis (TNT) League
Jessie Tinoco
Drs. Judith and Arthur Topilow
Chris Trew
Taylor Trumbower
Mary Tucker
Maggie and Amer Tufail
Michele and Richard H. Tupler MD
Melissa Tyler
Melissa E. Vandiver
Keyana Varnado
Vera Bradley at Lakeside Shopping Center
Leah Vidrine
Heidi Vizelberg
Gerald W. Vocke MD
Eileen Wallen
Jennifer Walner
Martie and Art Waterman
Roxie Watkins
Michele Weaverling
Alexander Weingarten
Wendell Wendling
Emily Whelan
Whiskey & Sticks
Ethel Williams
Sherri Williams
Taheera Williams
Cheryl Wilson
Nellie Wilson
Winn-Dixie
Elizabeth Winston
Carol B. Wise
Rebecca E. Wissler
Heather Wright
Miriam Wyatt
English Department Club
Vani Yadla
Corinna Yazbek
Flynn Zaiger
Shelley Zajic
Annette and Chuck Zapf
Furcy and Anna Zeringue
Zoom Szalon
Zuka Baby
Natalie Zurawin
Jennifer Zurik
Recurring Donors
The following donors have made a significant investment in our mission each month or quarter last year or for the last 5 consecutive years. You can join this list of donors with a small monthly donation or by donating your spare change.
John R. Argote
Dolores N. Banks
Rachel Bergman
Dawn Bradley-Fletcher
Elizabeth and Steve Brinson
Judith A. Brown
Corey M. Burns
Daniela Capistrano
Carter's and Delivering Good
Makisha Cheeks EdD
Congregation Gates of Prayer
Jacques Courseault M.D.
Susan and David Daube
W. Keith deJong D.D.S
Joshua Diaz
Ms. Dorothy Douglas
DSA Perfusion LLC
Jennifer Endsley PHR
Entergy
Rebecca Faucheaux
Dale R. Fleishmann
Deena Gerber
Greater New Orleans Foundation
Brick Green
Gustaf W. McIlhenny Family Foundation
Aritha Holiday
Kevin Hollingsworth
The Honorable Paulette Irons and Mr. Alvin Irons
Leslie and Scott Jacobs
Alessandra Jerolleman PhD, MPA, CFM
Jewish Endowment Foundation of Louisiana
Colleen and Allen Kirkley
Quyen Kraemer NP
La Societe Des Dames Hospitalieres Donor Advised Fund
Janet and Charles Landry Jr.
Leidenheimer Baking Co.
Rabbi Robert Loewy and Mrs. Lynn Loewy
Sheldon Lykes
Mary E. Peters and Robert W. Polchow Foundation
Heidi Molbak
Aimee Moll
Carlos and Allison Muniz
New Zion Baptist Church Women's Department
Mary Beth Plauche
Redmellon, LLC
Debbie & Rick Rees
Robert E. Zetzmann Family Foundation
Kimberly Rivers Roberts
Charles Rogers
Todd M. Sanderson MD
David and Lisa Schlakman
Kathryn Schroeder
Dan and Jackie Silverman
Theresa Sokol
Johnathan C. Stroud
Chelsea Sun
Ohoyo Taylor
The Adair Street Foundation
The Joe W. & Dorothy Dorsett Brown Foundation
David J. Thomas Jr. and Joyce W. Kisner
Willie Thomas Jr.
Drs. Judith and Arthur Topilow
Patricia Walters
Terry J Watt PhD
Fern Watters
In-Kind Donors
The following donors have donated shelter supplies, food, school supplies, holiday gifts, career clothing, auction items and more, to help Shelter families break the cycle of homelessness in their lives. The goods and services they give ease the burden on our budget to provide whatever a family may need on their journey to stability!
Lauren R. Aaron
AARP
Academy of Our Lady
Adventure Quest Laser Tag
AKD LAW: Alvendia, Kelly & Demarest
Cornelia Alexis
Align Technologies Corporation
Trenise Allen
Alpha Kappa Alpha Sorority
Amazon Cares Program
Anonymous (5)
AMC Theatres
American Federation of Government Employees
American Medical Women's Association / Tulane Medical School
Micah Andrade
Artemis Antippas
Patricia Antonucci
Jackie Appleton
Lauren E. Arbo
Adrienne M. Arthur
Aucoin Hart Jewelers
Audubon Nature Institute
Aunt Sally's Praline Shops, Inc.
Avenue Plaza Resort
Axiom Gallery
Azby's
Carolyn Babauta
Bacchanal LLC
Alina Bagdasarova
Angela Baham
Daria and William Baity
Bakery Bar & Debbie Does Doberge
Lynn Baldwin
Mignonne Bankston
Bar Frances
Wade Barrow
Basin Street Records
BreAnna C. Batiste
Bayer "Embrace Group"
Beacon Light International Baptist Cathedral
Babette Beaullieu
Beauregard-Keyes House
Ashley and Bradley Becnel
Jeanne and Sophie Bellanger
Ms. Karen Bailey Biever
Sharon Billy
Janna Hart Black
Rebecca R. Blake
Scott P. Blessing
Blue Bayou / Dixie Landin'
Blue Cliff College Students & Staff
Bonfolk Collective LLC
BooKoo Bounce
Carlee Jo Bourque
Kristopher Braun
Breads on Oak
Broad Warehouse Furniture
Jasmine Brown
Jeri Brumfield
Bumble
Ann Burke
Cortney Busch
Cajun Pride Swamp Tours
Franky Canga
Capital One Bank
Carter's and Delivering Good
Amy Casbarian
Catahoula Hotel
Cavan
Tiffany Cazabon
Centerplate / MCCNO
Kathleen Chapiesky
Cheryl Clisby Events
Chloé Chetta
Children's Clothing Exchange
Chisesi Brothers Meat Packing Co
Chrystal Nause Photography
Church of the Lord Jesus Christ
City Putt
Drs. Joy Cohen & Michael C. Grieb
Belinda Coleman
Wanda Colin
Lyle Colombo
Color of Change PAC
Commander's Palace
Congregation Rodeph Sholom Sisterhood
Cookin 4 You Personal Chef and Catering Service
Corey's Salon, Spa & Gifts
Marsha Corkery
Gail Cowling
Creole Cuisine Restaurant Concepts
Crescent Care
Violet Crist
Brandy Crooks
Morgan L. Cross
Crush Funk Brass Band
Cypress Grove Missionary Baptist Church
Dancing Grounds
Amy Dannen
Dark Garden Corsetry
Darryl Schmitt Photography
Darlene Daugherty
Daul Insurance Agency Inc.
DAVEXLABS, LLC
David Art
Delisha Boyd, LLC
Sarah and Paul Delord
Amelie Desormeaux
Kathryn Di Losa
Callie Diaz
Dickie Brennan & Co.
Ayame and Carling Dinkler IV
Diversified Real Estate Acquisitions and Management, LLC
DJ Tours New Orleans
Money Mart Financial Services
Lisa Doyle
Dress for Sucess
Dryades YMCA
Val Duffel
Roosevelt Effertz
Ego's Gentlemen Spa
Kellie Eichmann
Embodyment Salon & Spa
Empowerment Ministry
Entergy
Eta Phi Beta Soroity Inc. Omicron Chapter
Kalayah Eugene
Evening Star Missionary Baptist Church / Project Love Ministries
Family & Friends of Queens Beauty & Barber Salon
Murelle Farmer
Dana Farris
Levi Farris
Fascio Gives Back
Shawne Favre and the "Porsch Krewe"
Federal Bar Association (FBA) New Orleans Chapter Younger Lawyer's Division
Darrel Ferdinand
Lakisha Fields
Foley & Mansfield PLLC
Eric A. Foley
Forelle Consulting Group
Fox News Network, LLC
Patricia G. Franklin
Fresenius Medical Care
Friends of City Park
Friends of New Orleans Library
FTC Tax Service
Allison Gallaspy and Michael Domangue
Gamma Alpha Fall 1999- Delta Sigma Theta Sorority, Inc
Gamma Sigma Sigma National Service Sorority, Inc.
Qwendolyn Garnett
Gates of Prayer Sisterhood
Cherie Gauthier
Saul Gaylord
GE
Girl Scout Louisiana Troop 40971
Girls Scout Louisiana East Troop 41010
Global Wildlife Center
Sonya Glorioso
Barbara Goins
Donna Gordon
Grace Evangelical Lutheran Church
Grace Outreach Center Physical Therapy Clinic
Greenwood IttaBena Alumna Chapter (30 CJOEK) of Delta Sigma Theta Sorority
Theresa Grefer
Nellie Grimes
Yvonne M. Guidry
Gulf Islands Water Park
H2O Salon & Spa
Hancock Whitney
Ryne E. Hancock
Susan and Blake Haney
Hard Riders MC NOLA
Raychelle M. Harris
Krystal Harris-Broussard
Haute Greeks Couture (HGC Apparel)
LaShonda Haynes
Heather Elizabeth Designs Inc.
Daniel Hebert
Brian Heidenreich
Lauren Helvie
Anna Hernandez
High Hat Cafe
Kelley Hill MD
Samantha F. Hill CPA
Hilton Riverside
History Antiques and Interiors
Barbara Holstein
Home Depot #385
Home Depot Store # 0352
Kellie Hoppe
Lindsey D. Humphrey
John Huynh
Hyatt Centric French Quarter Hotel
Infinite Blessings LLC
Irpino, Avin & Hawkins Law Firm
Isidore Newman School
Jaci Blue Boutique
Jasper Foundation
Jazzercise Metairie Fitness Center
Shawn Jefferson
Tonia Jenkins
Jentle Touch In Home Care LLC
Jewish Federation of Greater New Orleans
John Ehret H. S. / Shades of Beauty Club
John McDonogh Class of 1989 Alumni
John's Tuxedos
Andreleta Johnson
Babs Johnson
Nada M. Johnson
Kenneth Johnston
Josephine Pearle
Josh Hailey Studio
Sandra Judd
Juneau Metalworks
Just the Girls
Jamara Keller
Gregory W. Kelly
Stephanie Kelly
Christina Kelson
Emma Kemsley-Pein
Kendra Scott
Kenneth's Studio for Hair
Jerome Kirlin
Kiwanis Club Of Pontchartrain
Knights of Peter Claver Ladies Auxiliary – Court 52
Julie A. Koppmann
Krewe of Muses
Lakeside Photoworks
Lakeview Vikings Gold
Brandy E. Lalla
Laura Lamartina LPC-S
Julie Lause
Le Petit Theatre
Rae Lynn LeBlanc
Brooke LeBourgeois
Dawn Lemke
Lena Lashes
Tina Lifford
Tricia Lincoln
Katrina Lindsey
Little Miss Muffin
Shalane Loehn
Longway Tavern
Louise S. McGehee School
Louisiana Philharmonic Orchestra
Louisiana Student Assistance Program / LASAP
Love Swimming Swim School
LSU Health Sciences Center School of Public Health
LSU School of Medicine
LSU School of Public Health Staff Assembly
LSUHNO School of Nursing
Pearl Lucero
Lutheran Women's Missionary League
Lydia Court #8 Ladies of the Circle of Perfection
Ava Mackey
Claudette Magee
Sarah Maggiore
Katie Magoun
Jermaine Mante
Mardi Gras School of Cooking
Mari Milner Dance Academy
Martin Behrman Charter School
Rayne Martin
Claire Mayer
Henry McCarthy PhD
Ferrell McClain
Laurie McConnell
Brionne McGill
Kathryn McIntyre
Kerrie A. McNeal
Meauxbar
Lesley Melancon
Melissa Vandiver Art
Merrill Lynch
Metairie Healthcare Center
Mignon Faget Ltd.
Mignon for Children
Kathy M. Mire
Erinn Mitchell
Joycelyn and Courtney Mitchell
Adriana Mochon
Dustin Montana
Alvin Moore
Kim E. Moore
More For The 504
Cynthia G. Morse
MPulse Studio
Mullin Landscape
Steve Mulvany
Muslin Academy
Nanny Dash
Laura Napoli
National Food & Beverage Foundation
Natural Nails Spa & Tanning
NCIS: New Orleans
NetWork Volunteers
Networking with Queens
Neutral Ground Shop
New Hope Missionary Baptist Church
New Mt. Bethel Baptist Church
New Orleans Athletic Club
New Orleans Ballet Association / NOBA
New Orleans Business and Professional Women
New Orleans Cold Storage
New Orleans Police Department – Second District
New Orleans Steamboat Company / Gray Line
New Orleans Wine and Food Experience
New Orleans Yacht Charter
New St. John Missionary Baptist Association, VF Andrews Women's Mission
New Zion Baptist Church Women's Department
Lelia Gowland and T. Cole Newton
Nkrumah Better Boys, Inc. Social Aid and Pleasure Club
Nola Bombshells
NOLA Brewing Company
NOLA Panty Project
NOLA Tree Project
Kris Norvell
Elaine Nunnery- Houston
Oak Alley Plantation
Zia Oatley
Ochsner OB/GYN – Ochsner Health Center – Clearview
Ogden Museum of Southern Art
Old New Orleans Rum
Lenier Oneal-Durand
Oriental Trading
P.U.R.P.O.S.E. / Divine Purpose
Palmisano
Patrick F. Taylor Science & Technology Academy
Haroldlyn Patterson
Paul R. Valteau Jr. Attorney at Law
Emma and Matthew Pegues
Pelican Pointe Carwash
Brandy Jones Pellegrin
Peoples Health
Perlis
Deborah Peters
Yuka Petz
Claire Pickering
Pierre A. Capadu Charter School
Mary Beth Plauche
Pleasant Hill Baptist Church
Plush Appeal LLC
Podesta Wellness
Loren Pouros
Power to Exhale NOLA Chapter / 504 Queens
Julius Price
PricewaterhouseCoopers LLP (PwC)
Thomas Prince
Phat Quach
Queen Rising the Movement
Shelby Rabara
Heidi and Daniel L. Raines MD
Wendy R. Randall
Glenda L. Ratcliff
Alfonso Reilly
Reine NOLA Events & Lounge
Renaissance New Orleans Arts Hotel
Rho Phi Chapter of Omega Psi Phi Fraternity, Inc.
Latoya Richardson
Ritz-Carlton New Orleans
River Church
Kimberly Rivers Roberts
Royal Sonesta New Orleans
Rubensteins
Ruth's Heart
Saba
Saint John #5 Camp Ace Social Ministry
Nita-Joan Sams
Sarah House Art
Sayas Hands Foundation
David and Lisa Schlakman
Susan Schwind
Second St. John Missionary Baptist Church
Nina B. Shelby
Bruce Sherman
Jasmine Shirk
Sideline Pass, Inc
Sidney's Snowballs
Sigma Theta Tau International Honor Society of Nursing
Silver Slipper
Dan and Jackie Silverman
Jackie Silverman
Single Mothers with a Purpose
Kimberley Singletary
Sistahs On One Accord
Sisters & Brothers Keepers for Life LLC
Sixth Baptist Church Women's Ministry
Debbie and Eric Skrmetta
Skyliners Youth Outreach
Antonette Smith
Soma Intimates, Lakeside Mall
Southern Glazers
Southern Rep Theatre
Springhill Suites and Towerplace Suites New Orleans
St. Andrew's Episcopal School
St. Angela Ladies Auxiliary
St. Angela Merici Catholic School
St. Benilde Catholic Church
St. Charles Avenue Presbyterian Church
St. Maria Goretti Sunshine Youth Group CYO
St. Thomas More Knights of Columbus Council 7226
Jo Starnes
Carol and Pierce Starr
Erin Sternio
Betty B. Stewart
Rachel Strassel
Amber Stroman
Eric Stuart
Delaina Sweat
Swiss Confectioners Inc.
Sylvain
Tato's Tires
Tavalino Pizza & Lounge
Mary D. Taylor
Tara Tebbe
Chandra Teddleton
Stacy Terry
The Audubon Group at Morgan Stanley
GAP Inc.
The Law Offices of Randy Reep
The New Orleans Church of Christ
The Old No. 77 Hotel & Chandlery
The Positive Kid Project
The Roosevelt New Orleans A Waldorf Astoria Hotel
Amanda Theriot DNP
Thomas Mann Design
Curtis Thomas
Laniece Thomas
Cherie and Jonathan Thompson
TJ Maxx
Tools For Success
Trinity Community Center
Trinity Episcopal School
True Title
Truth Lounge
Tujague's
Melissa Tyler
Artis Ulmer III
United Baptist Association Inc.
United Teachers of New Orleans – Retiree Chapter
UPS Store
Ursuline Academy Parent Club
Melissa E. Vandiver
Vanguard Paul Mitchell School
Keyana Varnado
Vera Bradley at Lakeside Shopping Center
Verbo of New Orleans Family Group
Verius Property Group (VPG)
Heidi Vizelberg
Kathleen R. Vogel
Tamara W. Walker
Wal-Mart Supercenter #911
Wal-Mart Supercenter #989
Jennifer Walner
Nimet Weisler
WGNO TV- News with a Twist
Debbie Wheeler
Wild Lotus Yoga
C. Paige Williams
Danielle Williams
Nicole Williamson
Windowsill Pies
Winn-Dixie
Mark Winograd
Barbara Witting
Lorraine Witting
Artist, Interior Designer Nancy Hirsch Lassen
Woldenberg Village
Women In Medicine
Women in Surgery at Tulane School of Medicine
Remie Wood
Monica Woodley
Laura Wysocki PhD
Xavier University College of Pharmacy
Y and R Productions
Zea Rotisserie & Bar
Zeta Phi Beta Sorority, Inc. – Alpha Gamma Zeta
View our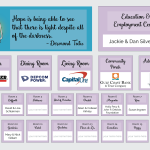 Room Sponsors Donor Wall
(The physical version is on display in our Shelter lobby)
Many thanks to these Corporate and Foundation donors for their exceptional support last year (2019):
Barrasso, Usdin, Kupperman, Freeman & Sarver
Blue Cross and Blue Shield of Louisiana
The Joe W. & Dorothy Dorsett Brown Foundation
Capital One Bank
City of New Orleans
Entergy
Ella West Freeman Foundation
Wendell & Anne Gauthier Family Foundation
Greater New Orleans Foundation GiveNOLA Day
Goldring Family Foundation
GPOA Foundation
Gulf Coast Bank and Trust Company
Jewish Endowment Foundation of Louisiana
Eugenie and Joseph Jones Family Foundation
Keller Family Foundation
The Kirkley Family Charitable Fund
La Societe Des Dames Hospitalieres Donor Advised Fund
Liberty Bank
LongueVue Management Company LLC
Gustaf W. McIlhenny Family Foundation
OnPath Federal Credit Union
Mary E. Peters and Robert W. Polchow Foundation
Redmellon, LLC
Schwab Charitable Fund
Sperling Family Charitable Foundation
St. Charles Avenue Presbyterian Church
Taste of the South
The Blue Cross and Blue Shield of Louisiana Foundation
Whitman Family Foundation
Wisner Foundation – City of New Orleans
Woldenberg Foundation
Robert E. Zetzmann Family Foundation
To learn more about how you can become a Shelter supporter, please visit www.nowcs.org/support.