Children's Sheltering Fund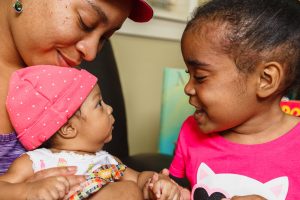 Comprehensive Services for Our Most Vulnerable Residents
Our 2014 expansion more than doubled the number of women we serve in a year but it nearly quadrupled the number of children served. Two-thirds of the individuals we now serve are children. In 2017, we served 234 children, most of whom were under the age of 10.
Critical to our success in moving families from homelessness to independent living is the ability to house, feed, clothe and care for them in a safe and secure environment while they receive important services designed to help them succeed at work and in school. One third of our operating costs go to sheltering children. Children's Sheltering Fund donations will go to the direct costs of sheltering and nurturing these great kids until their family is prepared to move forward.